| | |
| --- | --- |
| Location: | Rooty Hill |
| Phone: | (02) 9836 2400 |
| Mobile: | 0404026364 |
| Fax: | (02) 9625 5453 |
| Email: | info@batoespaving.com.au |
| | Servicing Sydney Wide With Huge, Discounted Deals |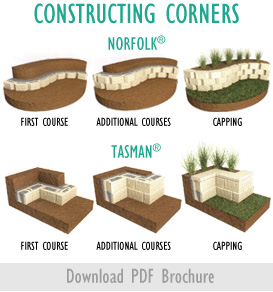 Tasman Blocks | Tasman Retaining Wall System
Do you dream of turning your backyard into a verdant wonderland that you and your family can enjoy year round? Do you have steep sloping hills that are simply impossible to do anything with? If you want to maximise the use and efficacy of your backyard then the best way to get stunning results no matter the size or gradient of your lawn, then Tasman Blocks from Batoe's Paving Centre is the choice for you.
Tasman Blocks are the trademarked design of Baines Masonry, just one of the suppliers that Batoe's Paving Centre is supplied by.
What are Tasman Blocks?
Tasman Blocks are part of the Tasman retaining wall system, a premium quality retaining wall arrangement that is suitable for vertical and very high retaining walls.
Tasman Blocks come with a beautiful natural rock finish and in a variety of colours to suit any palette or design you have in mind.
Tasman Blocks also come with capping units and purpose made corners so your retaining wall is sure to be a beautiful and eye-catching addition to your property.
Tasman Blocks are uniquely designed to allow increased flexibility over other retaining wall systems. Tasman Blocks system allows near vertical walls to curve or have corners, no matter what you have in mind for your backyard renovation and design, Tasman Blocks are a great addition to any home.
Contact Batoe's Paving Centre for all of your Tasman Block Requirements
If you're looking for Tasman Blocks for less then get in touch with the team of paving and retaining wall block experts at Batoe's Paving Centre. With over 23 years of experience in the industry we know everything there is to know about pavers and retaining wall blocks.
Batoe's Paving Centre proudly supplies both commercial and domestic customers, so no matter who you are or what the nature of your project is, Batoe's Paving Centre will have the right advice and products to ensure the best possible result on your job.