| | |
| --- | --- |
| Location: | Rooty Hill |
| Phone: | (02) 9836 2400 |
| Mobile: | 0404026364 |
| Fax: | (02) 9625 5453 |
| Email: | info@batoespaving.com.au |
| | Servicing Sydney Wide With Huge, Discounted Deals |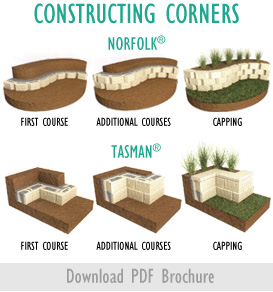 Retaining Wall Blocks Sydney
Designed and structured to restrain soil from flowing to unwanted areas, Retaining Wall Blocks play a huge role in ensuring that areas with terrain possessing undesirable slopes as well as landscape are well shaped and engineered effectively for more useful purposes such as hillside farming or even more entertaining activities like gardening. Gardeners can create their garden on a sloping site by using retaining walls to ensure their well-dug earth does not get washed away in the heavy storm rain. For this reason, it is very important to make sure that you use quality paving and walling products.
Comprising of the best professionals who are well trained to make your environment wonderful and breathtaking, we have been in existence since the year 1987 and we offer the best services and products that ensures clients' satisfaction at all times throughout Australia. We aim to give you a product that is both strong and durable, they are perfectly made with a variety of different rock, creating a wall that looks attractive and sets off the garden or site admirably. With the best expertise, you will be amazed on how lovely the final product will look like. Retaining Walls blocks that are used for retaining earth must have a great deal of strain and pressure to withstand all kind of forces. This means that the foundation work needs to be done properly in such a way as to ensure the wall does not come crashing down. It is important to know that a wall which is not solid enough can also pose a safety hazard, should it topple down just as someone is walking by.
Improve Property Value
A fantastic landscaped backyard using beautiful and colourful concrete pavers is definitely an investment that has the potential to boost the value of your property; what's more, it serves as an addition to the home by providing an attractive outside living space for you and the family to enjoy. There are a number of different kinds of strengthening walls that can be used these days from smooth, pre-cast cement wall structures, and walls composed of individual pieces that will make your place look so adorable and clean.
With a team of well experienced professionals, your environment will have a new and improved look. The type of retention walling that is in most cases found in garden landscaping design is attractive in appearance but still carries out the purpose of containing soil and preventing erosion. It's also used to help in the creation of garden terraces and outdoor patios as well.
Making use of retention walling for landscaping design purposes is centred on making the most of room in a manner that looks attractive and, as such, they are the perfect marriage of design and function. Retaining walls blocks composed of individual pieces of rock or clay-based bricks for instance, can give you an amazing aesthetic appeal and is simply mind blowing.
Obviously, you will want to pick a variety of block Retaining Wall that is well suited with keeping with the design and style of your home. Plants can be grown in the soil to move up the wall surface and make the wall structure more organic looking. It is also feasible for these interlocking blocks to be placed in such a manner as to lend an agreeable curvature or pattern to the over-all appearance of the wall.
Contact Us Today!
Make the right choice – Give us a call today.